Auto Repair Reviews and Testimonials
All Car appreciates and wants to sincerely thank all our customers who took their valuable time to state how they feel about the work and service All Car has performed for them over the years. 
RV & Auto Repair 'Dual' Consumers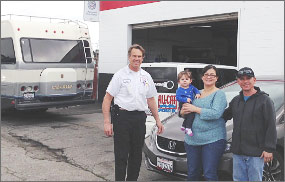 "Thanks to the Vasquez family who came all the way from Chino, CA to have All-Car work on their RV (Recreational Vehicle – shown to the left) and their Honda (shown in back). All Car Appreciates Your Business"
Paul Brow – Owner All Car Specialists, San Gabriel, CA
Feb 2017

A Customer from the 90's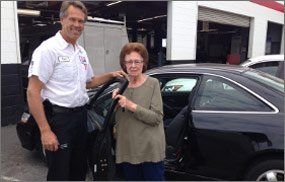 Paul Brow with Marie Nuterangelo, deliver's Marie's car. She has been having her and her family's car serviced at All Car Specialists since the 1990's – Marie is the kind of person that makes going to work a pleasure.
"LOVE the service and our staff. The Service has always been excellent!" –Marie Nuterangelo
"Thanks Marie for being a 'Loyal' Customer!  –Paul and Cheryl Brow

Classic Buick Gets Hollywood Producer Owner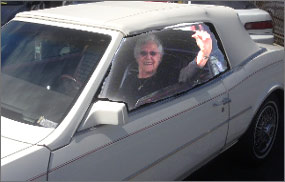 Velma Kahn is a long time customer of Paul at All Car Specialists and the former owner of this Classic 1983 Buick Riviera Convertible. Hollywood Producer Phil Goldfarb of Goldmar inc. Productions bought the car and is also a good friend and long time customer of Paul and Cheryl. Phil has been a Producer on the TV Series 'The Librarians' as well as Production Manager.  Velma says she is blessed to have us in her life. 
"Thanks Paul for taking care of our pride and Joy 83 Rivera convertible. Sitting in there car brought back many happy memories." – Velma Kahn 
A 'Piece of Mind' Courtesy Inspection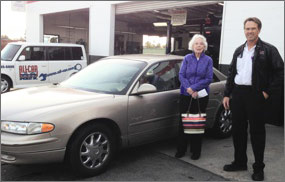 Paul with loyal customer Margret Ostlund.  Margret and her family have been using All-Car Specialists since the 1980's.  Paul was helping Margret with a recall issue that stated a possible engine fire from an oil leak. Instead of having Margaret drive around worrying about something happening to her car and safety, Paul inspected it for leaks and found no signs of oil. All Car Specialists has helped many people identify warranty issues that are free of charge through the dealer networks and manufacturer recalls. Being proactive about service and recalls have kept Margret's car trouble free for 15 years.  
"Thanks Margaret to you and your entire family for your years of loyal and trusting patronage!!!"
– Paul Brow
Years of Dedicated Patronage from 

Asher and Son's Company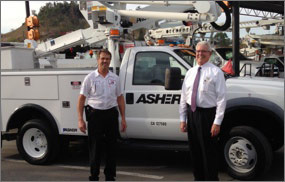 Paul Brow with long time customer and friend, Jim Asher of Asher and Son's Utility Construction and Specialty Truck Company.  Al Asher and Son's cannot afford to have one of his rentals break down!  His secret to success is SERVICE — It has been said that he over services them.  Most of the vehicles owned are over 8 years old.  Al Asher and Sons have their own mechanics but they use All-Car Specialists for the difficult Electrical and mechanical problems that they run across.  All Car Specialists also services Jim's personal vehicles which is a great complement due to the amount of choices that he has for car service.
"Thanks for your years of loyal service and the 'cool' photo!" –Paul
'All Car Does what Dealer Couldn't'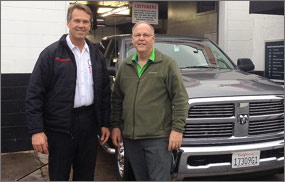 After taking his 2012 Dodge 2500 Diesel to the dealer several times for a check engine lamp he brought it to us and we diagnosed it correctly for him.
Ken and several of his friend's love getting their cars and trucks fixed at All Car Specialists.

Paul Brow with customer Ken Keller 
December 2015

Special Thanks to 

Silver Anniversary


Customer 

Pat Barbariol



Dedicated and Loyal Customer, Silver Anniversary Customer, SDB Brother Pat Barbariol from Don Bosco Tech, has been using All-Car Specialist for over 25 years.  He really likes the way we fix things right the first time.
"There are a lot of other choices but All-Car fixes it right and are reasonably priced." – Pat B.
I have been a customer here since 1989. He has kept all of my cars in tip-top shape. I have owned Audi's, Volkswagen's, Honda's, Chevy's and Fords. Paul is a great mechanic and he runs a great shop. They are honest and they will work until they get to the bottom of an issue. I no longer live in the area but I go out of my way to bring my cars here. These guys are FABULOUS!!  -Jeffrey B.. – Pasadena, CA, Yelp Review – 6/29/2015

"Good, honest communication, straightforward repairs at honest prices and friendly service.  Appreciate your local mechanic.  They can get your car running the right way when a non-all-car specialist tweaks it."  -Adam B. – Alhambra, CA, Yelp Review – 5/22/2015

"All Car Specialists always does a great job with my car. Not only do they do my services but they let me know what to keep an eye on in the future so I can plan for it instead of being strapped one time. Great place to bring your car!"  –Judy's Book Review Guest

Great Quality service I was recommended to All Car Specialists. Although a far drive, I was going past there to go on a trip so I could drop my car off.  They fixed everything that was wrong and my brakes felt great again.  -Colin J. at Customer Lobby
"Great service at All Car!  

I have found this shop recently because the shops in my area are difficult to work with. All Car always explains what's wrong, can show me, and suggest how to keep my car running at its best. I trust the mechanics there which is always my number one concern. The other good thing is they do everything so I don't need to drive around town to get different services. Pros: Very helpful, great technicians, my car feels much smoother. Cons: Far drive for me, but worth it."  

–

surfin 247 at CitySearch
Ron has been bringing his automobiles into All Car Specialists for over 10 years and brings all his friends and both cars to us.  "Thanks Ron – Paul!"
"The best auto repair professionals hands down."   -John Daugherty, December 5, 2013
We enjoyed viewing you site. Thank you again for the help you gave us when we were stranded at Jeff's without a radiator and fan for our Bravada. –Virginia H. Goodrich, October 27, 2014
"A good place to get your car fix. The staff are excellent!"  –Jules Green,October 22, 2014
Paul's work is done very professionally – on time, no hidden costs and excellent results."  -Norman Blieden, 2011-09-21
"I have been going exclusively to Paul Brow for my auto service needs for over 40 years. That's right 40 years. Paul started working out of his father's garage when he was 14 or 15 years old. He has been very successful ever since. He is a first-rate mechanic, honest (rare in this profession), hardworking, pays attention to detail, pro-active in the community (teaches auto mechanics at the local College), good businessman, always learning and striving to be better. Most important is the service you get. He treats you with respect and gets you in and out in a timely matter and at a fair price. I always recommend All-Car Specialists. " -Brad Reaume, 2011-09-21, Pasadena
"Paul is a wealth of information very helpful if you have a problem. Since he teaches, he is good at working with most automotive problems"  -Bruce Defeyter 2011-09-21,Santa Barbara
"Dear Paul, your expertise and persistence on my senior citizen" Nissan ZX has restored it to its youthful vigor. I'm deeply appreciative of the time and kind attention you always expend on my behalf to ensure that I'm both safe and satisfied when I leave All-Car. Thank you to you & the Technician who worked on my car."  -Dianne Viaccary, September 25, 2010
"Hi Paul, My wife and I want to extend our thanks for being such a professional in taking care of our automobile and also would like to mention in all our years as a AAA member, we feel knowing your shop makes us proud to belong to such an association. Your personal is most attentive, we are truly thankful we took our needs to you.  Thanking You, Amelia and Roberto"  

-Amelia and Roberto, 2010-05-28, Temple City
"Dear All Car Specialists Thank you for supporting San Gabriel Christian School's 2010 Silent Auction through your donation of $50 cash and $50 gift certificate. We are so blessed to have the support of our families, friends, and community. Blessings, Diane Acosta, Development Director"  -Diane Acosta 2009-12-03, San Gabriel Union Church and Christian School, San Gabriel
"Dear Paul: Your Charity unites and sustains us in our effort in behalf of our children!! Thank you for your gift certificate, valued at $50.00, for our upcoming Auction. Your generosity will be multiplied and passed on as a blessing to a multitude of children. Be assured of our most grateful prayers. Sincerely, Msgr. Clement J. Connolly" -Msgr. Clement J. Connolly 2007-04-06 – Charity, Hacienda Heights
"Dear Paul and Javier, Time really flies. It's been 2 years since I transferred to U.S.C. Tomorrow will be my commencement day, and it's time to say goodbye. I would like to thank you for taking the great care of my Jetta over the past 2 years. I truly appreciate every little thing you did for me. Once I decide to come back to move on to my master degree 3 years later, we will see each other again!  Fight On!  Best Wishes, Vivian"  –Vivian USC Student 2009-09-14, Los Angeles
"Dear friends at All-Car Specialists, I want to say that your Repair shop made me feel special with your honest ways and friendly people. I will never take my car to the dealer again. Thanks again and I will "pass the word" to my friends."  -Virginia M., Service Bulletins Saved, 2009-03-19
How a little information from All Car Specialists saved a customer money and the dealership did the maintenance for free!
"Dear Paul: Just a short note to let you know that the power control module in my 1989 Chrysler New Yorker was replaced by the Dealer without any cost. Although my warranty expired a year ago, the 1981 service bulletin that you could find helped establish that I indeed had a problem of my car stalling at slow speeds. ÂSince I brought the car in 1989, I had taken it to at least three Chrysler Dealers prior to taking it to your company. Each dealership failed to fix the problem and merely wrote it off as being an intermittent problem. I was not until you provided me with the service bulletin and along with all my prior service receipts that I was able to establish to the Dealer that I truly had a problem and that it should be fixed under warranty. When I first entered your company's waiting area I noticed there were a lot of thank you letters. I thought to myself sure, another gimmick probably relatives writing the letter's. Well, you can add my thank you letter to your collection"  -Service Bulletins Saved Me, 2007-05-24
"Dear Friends: One of your recent articles inspired me to submit the name of a prior Alumni. Paul Brow owner of All-Car Specialists in San Gabriel is one very worthy of recognition. Paul is knowledgeable and a very successful business man in the Automotive repair industry. I believe Paul is very worthy of recognition. Paul is a person of integrity and has brilliance that outshines the Hope Diamond. Check him out… discover a jewel from Don Bosco Tech!  Respectfully yours, Harriett Wilga"  -Don Bosco, 2007-04-26, Rosemead
"Approved Auto Repair Program A191 , July 13, 1998 Automobile Club of Southern California
"Gentlemen: I am of many thousands of single women who are self-supporting and have to rely on their own resources to manage their lives. One of the greatest challenges for women are when their car breaks down on the road. This happened to me recently. I live in Irvine and have taken my car to All-Car Specialist for maintenance for years. I do this because Paul is honest, professional and very skilled in his trade. I know that when I leave there, my car is in the best running order it can be. When the Alternator failed I could not go to All-Car for help. I was forced to make a choice Locally and I decided that I should have the car towed to Tuttle Click Ford in Irvine. I had to work that day and it made the best sense because it was close to home and work. I was a terrible mistake. Service To the customer has no priority. I had to rent a car to go to work and the rental was empty. I waited from 9 am to 4 pm for the estimate of $1063.00 for a new alternator to be installed and it might be done in 2 days time.
I called Paul at that point for advice and he resolved my problem at once. He sent a tow truck to pick up my car and me at 9 am in Irvine. The driver from Dixson Tow Service was excellent and most helpful. He Took me to All Car, the alternator was replaced at a cost of $355 and Paul had me on the road by 3:00 pm.  I find it very difficult to express my gratitude to Paul for the service and genuine caring he provides. He has the ability to treat each customer as though he had no others. It is an amazing thing to observe and to be a part of.  Because of this experience, I will be the proud owner of an AAA extended mileage service card. I will never take my car anywhere else but All-Car Specialist for service or repair." 
Sincerely, Barbara Jane Hansen
Single Woman In Distress, 2007-04-26, Irvine, California
"Dear Friends at All Car Specialist, it is with great appreciation that I write to you on behalf of the Board of Directors of the San Gabriel Valley Medical Center Foundation. Your support of this year's sterling awards by purchasing a half-page ad demonstrates your dedication to the Medical Center's mission in our community. This year's Sterling Awards dinner will benefit the Medical Centers Neonatal Intensive Care Unit and honor our community's best in Philanthropy, Civic Involvement and service. Your gift will go a long way to make this event a tremendous success. Thank you again for your support. Most sincerely, Lance Keene President"

Lance Keene, January 13, 1997 
President San Gabriel Valley Medical Center Foundation

Dear Paul: Your Charity unites and sustains us in our effort in behalf of our children!! Thank you for your gift certificate, valued at $50.00, for our upcoming Auction. Your generosity will be multiplied and passed on as a blessing to a multitude of children. Be assured of our most grateful prayers.  Sincerely, Msgr. Clement J. Connolly
Msgr. Clement J. Connolly 
May 16, 1995, Hacienda Heights