AAA Approved – Star SMOG Check and SMOG Repair Shop
All Car Specialists is a AAA approved and state licensed Star smog check inspection and repair station. We are ready to fix your car in case you don't pass the inspection. Auto repair at All Car Specialists is your one-stop smog check shop.  We provide fast smog testing and smog certificates serving Alhambra, Monterey Park, Monrovia, Pasadena, Pomona, Rosemead, San Gabriel and Temple City.
We handle SMOG service and repairs for luxury to economy cars, SUV's, Van's, Trucks, Diesels, Hybrids, Light to Medium Duty Commercial Trucks, High Performance Cars, Sports Cars, Motor homes and RVs, All Pre-2000 cars requiring SMOG Checks.
The California Smog Check Program requires vehicles that were manufactured in 1976 or later to have your automobile smog checked every two years.
Star Test is an enhanced version of the current vehicle-emissions inspection program. It is operating in the areas of the state with the dirtiest air.
Star SMOG Check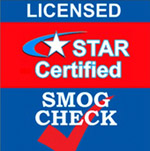 The California Star Smog Check Program requires vehicles that were manufactured in 1976 or later to participate in the biennial (every two years) smog check program in participating counties. The program's stated aim is to reduce air pollution from vehicles by ensuring that cars with excessive emissions are repaired in accordance with federal and state guidelines. With some exceptions, gas-powered vehicles that are six years old or newer are not required to participate; instead, these vehicles may pay a smog abatement fee for the first 6 years in place of being required to pass a smog check. 
Brake and Lamp Inspection Station
All Car is a Certified California Brake and Lamp Inspection Station located in San Gabriel.  A brake and lamp inspection is necessary to make sure that a vehicle being issued a salvage certificate is in a safe and roadworthy condition before it's re-titled. The California DMV considers the ownership of the vehicle to be changed, even though the owner remains the same. The DMV requires that a State Licensed Inspection station conduct a detailed exam of these critical components which may have been possibly damaged or misaligned due to an accident or damage from theft.  
Commercial Truck Inspection Station
California DOT annual inspections are necessary to maintain compliance with federal, state, and local laws. The experts at All Car are certified to perform commercial truck inspections that meet the requirements of California DOT. We offer DOT truck inspections for all types of Class 8 trucks and trailers. We can help you complete your DOT annual inspection quickly and efficiently.
Hybrid Cars now also require SMOG Checks.  A hybrid vehicle uses two or more distinct types of power, such as internal combustion engine plus electric motor, e.g. in diesel-electric trains using diesel engines and electricity from overhead lines, and submarines that use diesels when surfaced and batteries when submerged. Other means to store energy include pressurized fluid, in hydraulic hybrids.
Diesel Smog Checks
January 1, 2010 California passed a law that diesel trucks and cars that subjected them to smog checks. All Car Specialists in San Gabriel has the right equipment to check your diesel vehicle. All Car is a diesel specialists shop and can fix your diesel in order to get it running properly to pass. We have trained technicians that follow the same guidelines as normal smog checks in San Gabriel. The process of the smog check is about the same as gasoline vehicles.
The smog test is a 3 part test that consists of a visual check, a OBD-II, and a visual smoke test all of which follow the smog check inspection procedures manual. Vehicles that are exempt from the diesel smog checks are vehicles that are over the maximum 14,000 gross vehicle weight rating. If you have questions regarding the test please call or bring your diesel into All Car Specialists in San Gabriel.
History About the Previous Smog Check II
Smog Check II requires most 1974 and newer vehicles to be tested every other year (new vehicles are also exempted until their fifth year). Eighty-five percent of vehicles go to neighborhood smog check facilities for testing and repairs, while 15 percent must go to designated test-only centers.
These vehicles include high-mileage fleet vehicles "Gross polluters" and other potential high-polluting vehicles two-percent random sample of all covered vehicles.
Smog Check II uses a new dynamometer test that more accurately measures emissions by duplicating some driving conditions. It measures three pollutants: oxides of nitrogen (NOx), carbon monoxide (CO) and hydrocarbons (HC). Vehicles will also be subject to an additional test to make sure the evaporative system is operating properly. 
Emission standards are still based on those in effect in the vehicle's year of manufacture. New cars must still meet more stringent standards than old cars. State officials estimate that 30 percent of all vehicles tested will fail, due to the more accurate and representative test. Without a pre-test, 18 percent of all vehicles tested failed under the old program.