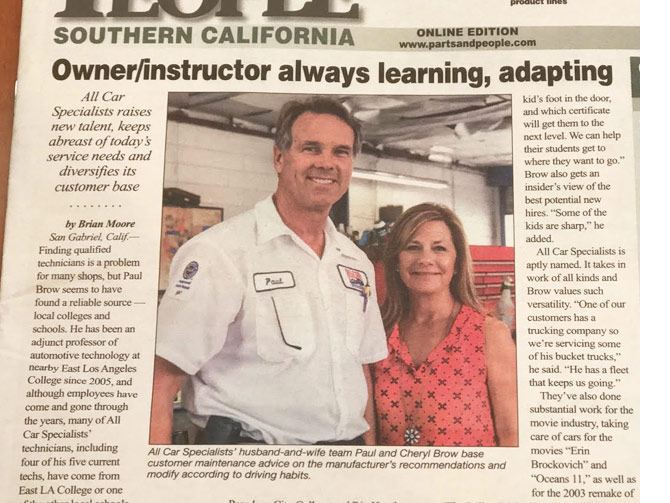 Owner Paul Brow "Always Learning, Adapting" – Parts & People Article
Owner Paul Brow is "Always Learning [and] Adapting"
"All Car Specialists raises new talent, keeps abreast of today's service needs and diversifies its customer base"
San Gabriel, Calif.  Finding qualified technicians is a problem for many shops, but Paul Brow seems to have found a reliable source — local colleges and schools. He has been an adjunct professor of automotive technology at nearby East Los Angeles College since 2005, and although employees have come and gone through the years, many of All Car Specialists technicians, including four of his five current techs, have come from East LA College or one of the other local schools.
"I'm on the advisory boards of all the auto technology programs in the area, Brow said," such as Mark Keppel High School in nearby Alhambra, as well as Pasadena City College and Rio Hondo College in Whittier.
"Being on the advisory boards is so important. Industry members can advise the schools on which certificates will get a kid's foot in the door, and which certificate will get them to the next level. We can help their students get to where they want to go."  Paul Brow also gets an insider's view of the best potential new hires. "Some of the kids are sharp," he added.
All Car Specialists is aptly named. It takes in work of all kinds and Brow values such versatility. "One of our customers has a trucking company so we're servicing some of his bucket trucks," he said. "He has a fleet that keeps us going."
They've also done substantial work for the movie industry, taking care of cars for the movies "Erin Brockovich" and "Oceans 11", as well as for the 2003 remake of "The Italian Job." "We did a lot of Mini Cooper clutches on that one, Brow said. "They'd burn them up shooting during the day then they'd tow the cars here and we'd fix them overnight. It was a lot of work."

Program benefits
Certifications and professional affiliations are important at All Car Specialists. Its technicians are all ASE-certified and their framed certifications are hung prominently on the wall of the customer reception area.
"Our employees, some of whom have worked here for more than 20 years, have helped us get to where we are today," Brow said. "Creating a great work environment and offering lots of personal development and support are some of the reasons this has happened."
Professional affiliations include being a Certified Service Center for Bumper to Bumper, an AAA-approved smog and repair store, and a Bosch Service Center.
"Our relationship with Bumper to Bumper lets us do nationwide warranties, and gets us advertising and marketing,he said.  We can do Bosch warranty work, too. And being an AAA shop is great marketing and brings us a lot of business."
They also provide training opportunities. Bosch training has been very helpful,Brow said. And ACDelco has also provided a lot of training over the years and still do.
"I used to go to the training center in Burbank and then they moved it to Glendale. Their training was excellent. Today they do a lot of training at local schools. 
They also come to our ASCCA meetings we find them a room and they come and do training for us. Pasadena City College lets us use their rooms free of charge for the training. They're very helpful."
More maintenance, less repair
There's no doubt the industry is evolving, Brow said. "Parts dynamics have changed so much." Brow's wife, Cheryl, agreed. "When we first started we knew what was going to fail so we stocked those parts," she said.
Cheryl Brow knows a thing or two about parts. She said her father once owned the largest parts retailer in the San Gabriel Valley, G&H Auto Parts.
"Our parts room has gone from mostly parts to mostly fluids," Paul Brow said. "Take coolants, for example, we have to have 10 different coolants for the domestic cars, the Asian cars and the European cars."
Being a member of the local ASCCA chapter offers value, too. The'y're constantly bringing speakers in to help us understand new technologies, he said. "Our new shop management software, Mitchell 1, also helps. You go to fluids section, it shows you what fluid belongs in a specific vehicle."
While maintenance is a big part of All Car's work mix, the continuously increasing mileage between OEM-recommended services means fewer maintenance opportunities. Nevertheless, Brow encourages his customers to service their cars based on their driving habits.
"We base our advice on the manufacturer's recommendations and then we modify it from there, he said. Maybe we'll advise them to service their car according to the OEM's severe conditions recommendations. Or maybe we'll recommend a different oil; a synthetic, for example, something that will serve them better so they don't have to come back as often. We tailor our recommendations to the customer and, of course, to the car."
Brow credits his successful 45 years in business to that kind of personal attention.  "It's important that we keep our customers involved," he said. "It's important to maintain that relationship with them."