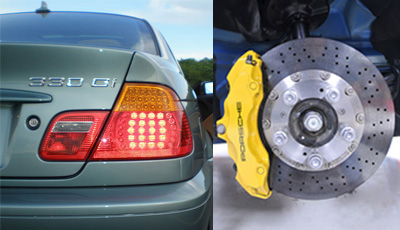 Full Service Brake and Light Inspection Center
Full Service Brake and Light Inspection Center
Many people want to save and keep their salvaged auto and need a brake light (or lamp) inspection. All Car Specialists is your head-tail lamp and brake inspection Center for Southern California. All Car is a California state-approved certified brake and light inspection station serving Glendora to Glendale to Puente Hills to Pasadena and beyond. If you want to register your vehicle with a "Salvaged Title" through the DMV, then you will need a brake and lamp inspection. A salvaged vehicle is one that could have been in an accident, stolen, or has been cited by the California Highway Patrol.
The DMV considers the ownership of the vehicle to be changed, even though the owner remains the same thereby requiring a salvaged title car to obtain these two certificates to receive a certificate of compliance that the vehicle is in safe operating condition at the time the brake and light inspection was performed. The brake and light inspection must be performed for the DMV before they will issue a title to the owner of the vehicle. The brake and lamp inspection takes about two hours to perform because of all the tests we do.
The reason for performing a brake and light inspection is to make sure your car is in a safe driving condition. Here is a general list of work we do on each vehicle. Some cars are often longer because of the condition.
Brake System
Brake shoes or linings can be no thinner than 3/32 to metal of any kind and they will be measured
Brake drums and rotors must be within manufacturers specifications and they will be measured
All braking hardware must be present, installed correctly, and in working order.
No signs of leakage in the hydraulic system, this includes master cylinder, wheel cylinders, calipers, valves, lines & connections.
Check the hoses, no cracks are allowed.
Warning lamps. They must glow when they are supposed to glow and be off when they are supposed to be off.
Emergency brake must hold the vehicle on a 6% grade.
Vehicle must be able to perform a 'panic' stop in less than 20 feet at a speed of 25 mph
Lamp System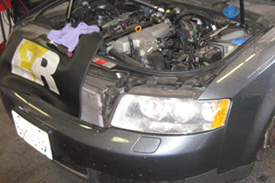 All originally equipped lighting equipment must be in working order. Please pre-inspect the following lights before your appointment. Headlamps, tail lamps, marker lamps, back-up lamps, brake lamps (third lamp if required), license plate lamps, turn signals, high beam indicator & any and all warning lamps.

Headlamps must be amiable. All adjusting hardware must be in good working order.

Lenses must be intact. No cracks that will allow any white light to be emitted.

All reflectors must be intact.

Body damage that interferes with the visibility of lighting equipment must be repaired prior to inspection.

Damage to headlamp aiming pads will need to be corrected prior to the inspection. These are the little pointy things on the lamps glass. They cannot be broken off.

If the vehicle is equipped with aftermarket lighting equipment, it must work or be removed. This includes fog lamps and KC style spot lamps

.
Brief History of the Disc Brake
Experiments with disc-style brakes began in England in the 1890's.  The first ever automobile disc brakes were patented by Frederick William Lanchester in his Birmingham factory in 1902, though it took another half century for his innovation to be widely adopted.
Understanding your disc brakes
Although a type of disc brake first appeared on the Crosley Hotshot in 1949 but withdrawn in 1950. Modern disc brakes were developed in the UK by Dunlop Tyres and first appeared in 1953 on the Jaguar C-Type racing car. The Citroen DS of 1955, with powered inboard front disc brakes, and the 1956 Triumph TR3 were the first European production cars to feature modern disc brakes. The first American production car to be fitted with practical disc brakes was the 1963 Studebaker Avanti.
Calipers
The brake caliper is the assembly which houses the brake pads and pistons. The pistons are usually made of aluminum or chrome-plated iron. There are two types of calipers: floating or fixed. A fixed caliper does not move relative to the disc. It uses one or more pairs of pistons to clamp from each side of the disc, and is more complex and expensive than a floating caliper. A floating caliper (also called a "sliding caliper") moves with respect to the disc; a piston on one side of the disc pushes the inner brake pad until it contacts the braking surface, then pulls the caliper body with the outer brake pad so pressure is applied to both sides of the disc.
Pistons and cylinders
The most common caliper design uses a single hydraulically actuated piston within a cylinder, although high performance brakes use as many as twelve. (Some pre-1969 Chrysler and General Motors vehicles had four-piston calipers – usually sought after by restorers.) Modern cars use different hydraulic circuits to actuate the brakes on each set of wheels as a safety measure. The hydraulic design also helps multiply braking force. The number of pistons in a caliper is often referred to as the number of 'pots', so if someone has six pot calipers they mean each caliper has six pistons in them.
Brake Pads
The brake pads are designed for high friction with brake pad material embedded in the disc in the process of bedding while wearing evenly.  Although it is commonly thought that the pad material contacts the metal of the disc to stop the car, the pads work with a very thin layer of their own material and generate a semi-liquid friction boundary that creates the actual braking force. Of course, depending on the properties of the material, disc wear could be faster or slower than with other pads.
All-Car Specialists serves San Marino, Rosemead, Alhambra, Pasadena, Monterey Park, Pasadena, South Pasadena, Temple City, and of course San Gabriel.