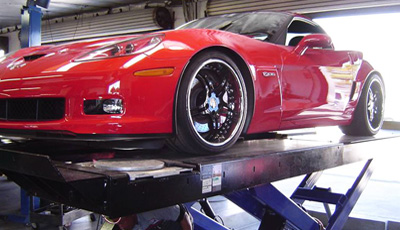 Sports Car Repair and Maintenance
Tune-ups, Rack & Pinion, Electrical, Timing, Struts – Shocks to Manual and Automatic Transmission Services
All Car Helps Your Sports Car "Straighten Out Those Corners for You!"
A Brief Sports Car History Note from All Car
Not that everyone doesn't know it, but a sports car is considered as a small, usually two seater, two door automobile designed for spirited performance and nimble handling, usually known for taking the turns at higher speeds more steadily than the standard sedan or coupe. But here's one you may not have known of, according to the Merriam-Webster dictionary, the first known use of the term was in 1928. Sports cars were often referred to as Touring Cars or Roadsters.
While other shops may tell you to "Bring your Sports Car in and we'll take a look at it", All Car tells you to "Bring it in and We'll Take Care of it for You!"
Porsche 911 Carrera below left and Corvette below right, are common at All Car Specialists. They both require a specific set of precision skills to maintain and repair. All Car Specialists has customers from all over Southern California from Azusa to Arcadia from Glendora to Glendale and Beyond.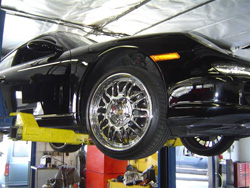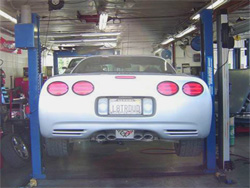 Porsche on rack left – Corvette – right
Unlike many other Automotive Repair Shops, All Car Specialists name says it all, All Car 'Specializes' in All Makes and Models, not just Imports or Domestics. The Porsche Import Sports Car has an entirely different set of requirements that must be dealt with than those of the domestic Corvettes or Mustangs, and it's much more than realizing the difference between metric Conversions.
Tune-ups – Alignments – Struts and Shocks – Electrical – Rack and Pinon Steering Experts
Below are a Lotus, a Ford GT, a Shelby Mustang and a Porsche that have all been worked on by All Car Specialists skilled technicians.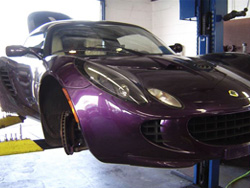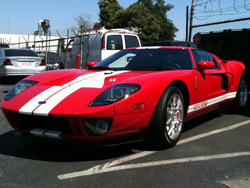 Lotus on rack brake job – left – Ford GT right

Ford Shelby Mustang and other Domestic in for Diagnostics
Tune-ups are one of the main differences between an Import Sports Car and a Domestic Sports Car and All Car has seen them all. Ask about a tune-up special on your Import or Domestic, no matter how exotic, All Car has the ability to work on all of them.