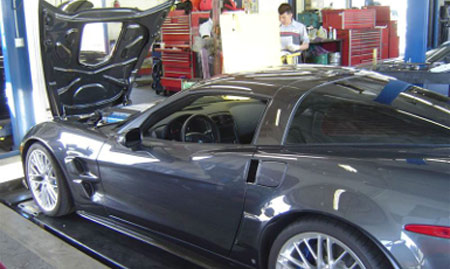 Southern California's Best Corvette Repair Shop – Vintage Classics to Computerized
A Classic Comes to All Car
Auto Repair and Maintenance on 'non-computerized' Classics

This beautiful 1959 Corvette (Featured above), got all its body work done at Formula 1 and was then taken to All Car Specialists for a full mechanical diagnosis and servicing.  All the necessary adjustments, maintenance and repairs were done in order to ensure that this classic car runs as well as it did when it came off the showroom floor in 1959. Paul's years of expert repair work on specialty car repairs and on having the contacts and ability to obtain the right parts for these specialized autos, proved invaluable on this prized classic Corvette.
This is an era where there were no computerized components in automobiles. While Paul has the most advanced and updated skills and equipment in the industry, sometimes working on an older model high performance automobile can be more difficult. The main reason is that Paul must rely on his experience not computerized diagnostics that don't apply to this older sports car.
No matter what year or make auto you have, just knowing a little about Paul's history in working with all types of vehicles gives you a comfort zone you won't get anywhere else at other repair shops.

The dramatic technology differences between the 1959 non-computerized Corvette and the newer ZR1 High Performance model with advanced computerized systems is a good example of how All Car has evolved. With constant training and certifications for advanced and modern automobiles including hybrids, diesels and the new trend, electric cars and prior years of working on all makes/models since the 70's.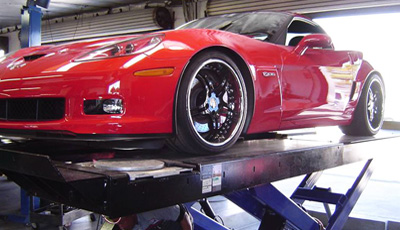 At All Car Specialists, we are Corvette Alignment Specialists.
This vast wide array of work on all makes/models of automobiles, trucks, vans and SUV's, gives All Car a distinct crossover advantage of years of working on non-computerized autos of yesterday to the newest high-tech autos of today.  All Cars' technology can be applied to older cars as well as the new modern makes and models, that most dealers and regular repairs shops are unable to work on. From Classic corvettes of the 60's to the latest high- performance Corvettes.
If you want to understand a realization or illustration this Classic 59 Corvette and New ZR1 High Performance corvette, All Car Specialists worked on, shows a good example of 'Where to take your specialty car in for repairs'.
#1 Because they simply don't have the experience, understanding, or just plain 'No-How'. That's right, 'No-How', because they just don't 'Know How' to deal with it.
#2 Their parts department wouldn't carry any of the parts that would even fit your make automobile.
The Average Auto Repair Shop
Try taking it to a normal repair shop, most likely they'll tell you they'll look at it and 'try and figure out what it needs' and get back to you. Ouch! and Double Ouch!! That's why you won't hear any of that from All Car Specialists. Got a Classic Dodge Hemi Charger? Bring it to Paul. Got a Mustang or Cobra? Got a corvette, bring it to Paul. If Paul says he can't work on your make or model it was probably built on another Planet. It's not that he couldn't, but he might have a hard time getting parts.
The real moral of the story that this scenario presents is that when you have a prized older automobile like this 1959 First Generation Corvette you don't want the repair shop guessing on what's wrong and then looking on the internet to try and figure out how to fix it while searching all day for parts.
Precision mechanical adjustments vs computerized technologies and diagnosis
While modern computerized high-performance engines like this newer Corvette Engine featured above, receive Precision Diagnostics and tune-up maintenance from All Car's Highly Skilled shop equipped with the latest in modern automotive technology, older classic models like the 59 Corvette required experience and technician's skills. As mentioned earlier, classic cars like the 59 Corvette customer of All Car's, required precision mechanical adjustments without the use or availability of computerized diagnosis.
There were no on-board computer systems in these earlier makes and models, of older automobile. Therefore, the mechanics who worked on these higher performance cars needed to 'Know-How' to make the right maintenance, valve-carburetor adjustments and timing. These adjustments involved mainly tools, scopes and a history of trial and error adjustment in order to get the settings to exact maximum performance.
The odd thing is that even though these earlier mechanics did not have the luxury of the modern technologies and computerized systems of today, many of these higher performing time-tested adjustments found their way into the advanced systems of today as a guide to maximum performance levels.  What sets Paul and Advanced All Car Specialists auto repair shop aside from any other, including the dealership service departments is that Paul has experience in both.
1959 Corvette History
First generation Corvette (1953 – 1962)
Only 9,670 production models made
Base price: $3,875
Base styles: Convertible
Base engine: 283 cubic inches, 230 horsepower
Engine options: 283/230, 283/245, 283/270, 283/250 (fuel injection), 283/290 (fuel injection)
1959 Corvette COLOR CHOICES: Snowcrest White, Roman Red, Tuxedo Black, Frost Blue, Crown Sapphire, Classic Cream, Inca Silver
Serial numbers: J59S100001 – J59S109670
The '59 Corvette introduced the first black interior and dash storage bin and was the only year with a turquoise top. The louvers and chrome strips from '58 model that preceded it were removed. The 1958 Corvette received a body and interior freshening from the initial models, which included a longer front end with quad headlamps, bumper exiting exhaust tips, a new steering wheel, and a dashboard with all gauges mounted directly in front of the driver. Exclusive to the 1958 model were hood louvers and twin trunk spears.
The '59' engine advancements included an 8000 rpm tachometer used with the 270 HP (200 kW) and 290 HP engines, rather than the 6000 rpm units used in the lower horsepower engines. The 59 corvette Engine options included two with twin carburetors (including a 270 hp model with Carter 2613S and 2614S WCFB four-barrels) and two with fuel injection. Power output for the highest rated fuel-injected engine was 290 HP.  For the first time, seat belts were factory-installed rather than being dealer-installed as on previous models. Rare options were RPO 684 heavy-duty brakes and suspension, RPO 579 250 HP engine, RPO 276 15″—5.5″ wheels.
Interesting Corvette History Facts
The 1959 Chevrolet Corvette Stingray Racer

The Corvette Sting Ray Racer (Featured below), was designed by Bill Mitchell, GM Vice President of styling, and Larry Shinoda in 1959.


The Corvette Sting Ray Racer was designed by Bill Mitchell, GM Vice President of styling, and Larry Shinoda in 1959. The basis of the Stingray was an engineering test mule chassis for the foundation of an official Chevrolet race effort culminating with the 24 Hours of Le Mans. But, soon after its race debut, the Automobile Manufacturer's Association had banned manufacturer-sponsored racing, and the SS had been relegated to test track duty.
Have a Corvette that needs some love? Bring it in or give us a call.