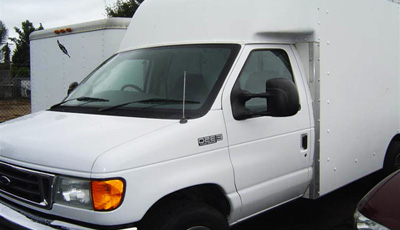 Commercial Truck Repair & Maintenance
Complete Full-Service Repairs and Maintenance on Light to Medium Duty Commercial Service Vehicles, Trucks, VANS and SUV's, Gas and Diesel
Full Diesel Service – Tune-ups – Rack & Pinion – Electrical, Timing, Struts – Shocks to Manual and Automatic Transmission Services
All Car keeps your service Trucks, Vans and SUV's on the road.
Light to Medium Duty Commercial Trucks are most commonly associated with Fleet departments of corporations, and they have their own special needs and requirements that need to be defined.
Basically, Truck classifications are typically based upon the maximum loaded weight of the truck (typically using the gross vehicle weight rating (GVWR) and sometimes also the gross trailer weight rating (GTWR), and can vary from jurisdiction to jurisdiction. While All Car doesn't weigh each truck before we take them in, those types of light to medium duty commercial trucks you see on main roads as well as side streets every day, doing deliveries, carrying local products, performing civic services, etc., are all handled by All Car's highly trained staff.
All Car knows that your service trucks are important to the operation of your business so at All Car we strive to get you in-and-out as quickly as possible.
While obviously All Car is not a service center for Tractor Trailer 18 wheel diesel vehicles, many of the smaller, medium and even light duty truck's are diesel and All Car is fully equipped to deal with all your mechanical problems and maintenance on these. All Car is a Blue Def Diesel Shop and have all the right fluids for your commercial trucks needs. In general, All Car has a history of servicing Class 4 to Class 6 categorized Trucks, with an occasional Class 7 Dump Truck now and then.
Light to Medium Duty Truck Services
If you own a single work vehicle or a fleet of several trucks, you cannot afford to have out of commission vehicles. If the units are not running, you are not making any money with them, while your 'cost per mile' by having them sit in your yard may be low, the 'cost per time' they're not is service is high!
Medium Duty Truck Services
Regularly scheduled maintenance, Federal annual inspections assistance, Brakes and Clutches, Charging and Electrical systems, Starting system, Cooling system, Air conditioning, Transmissions, Differential, Reliable Engine diagnostics
Expert Tune-up and Maintenance on all Types of Service Trucks
                             
Full Service Repairs, Diagnosis and Maintenance on All Types of Light Duty Service Vehicles
Whatever your light to Medium Duty Truck, VAN or SUV is, you can feel comfortable in the fact that All Car is your One Stop Service Center for every possible auto repair, mechanical or maintenance solution!
Time is money for any service company so schedule a maintenance check today and feel safe that your vehicle will be running smoothly when you need it most.  A regularly scheduled maintenance can help keep your 'Cost Per Mile' down and that's important to any business.