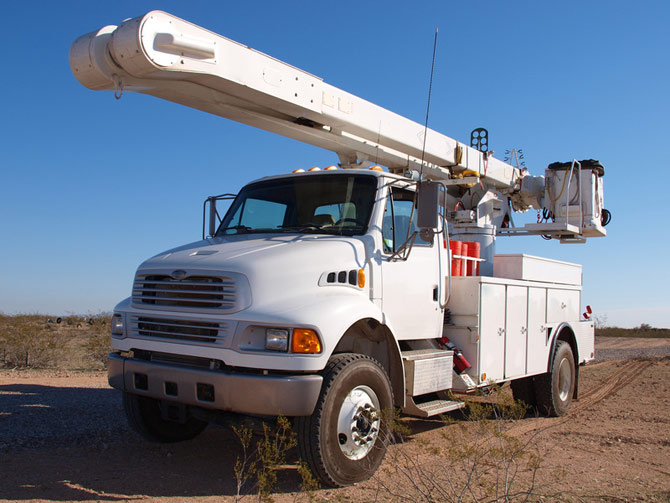 Commercial and Construction Truck Maintenance
Utility Commercial Trucks Require Expert Maintenance
All Car Specialists has the expertise and track record for servicing Medium Duty Commercial Trucks like those used every day by Utility and Construction Companies all over California, from Glendora to Glendale, Los Angeles to Loma Linda and Beyond.
Paul's client Al Asher provides an excellent and informational opportunity to highlight the expansive abilities of All Car Specialists to service a wide range of vehicle automotive repairs. Commercial medium duty trucks like this 'under 35 ft' van shown here, along with larger one's of Al Asher and Son's rental company, service major utility companies that require their service fleets to be fully operational in case of emergency situations.
Utility Bucket Trucks like the one shown here and those over 35 feet can be seen in the field every day. Utility companies like those of Al Asher's can't afford mechanical problems while working on sensitive jobs like those dealing with electricity. Many of these trucks are diesel and require an in-depth knowledge of diesel repair and maintenance and that's why All Car Specialists excel at keeping these emergency vehicles operational.

See All Car Specialists Testimonials page for review and photo of Paul and Jim at Asher and Son's huge facility of over 300 Commercial Utility and Construction Truck and Specialty Equipment Sales Company in Los Angeles, CA on Valley Blvd.
Construction Commercial Duty Diesel Trucks
On the Heavier aspect of commercial trucks is the Dump Truck. Mainly these have Diesel Engines as they require a lot of torque and are constantly undergoing heavy duty tasks. Shown here to the left is another of Asher and Son's service trucks. Construction trucks take a lot of daily heavy duty use and it is important that the maintenance of these heave duty diesel engines be serviced frequently. All Car Specialists is a Certified Diesel Specialist when it comes to both repairs and maintenance.



A Diesel Historical Summary




Many think that the name Diesel was some name randomly given to describe a certain type of engine. But the fact is that is was named after developer, Rudollf Diesel. Rudolf Diesel was subsequently credited with the compression ignition engine innovation, despite Akroyd-Stuart's engine being patented two years earlier. The higher compression and thermal efficiency is what distinguishes Diesel's patent, of 3,500 kilo pascals (508 psi), from Ackroyd-Stuart's hot bulb compression ignition engine patent, of about 600 kilo pascals (87 psi). Rudolph Diesel improved his engine further, whereas Akroyd Stuart stopped development on his engine in 1893. Shown to the left is a Photo of Diesel's Original Historical 1897 engine that is on display at the Deutsches Museum in Munich, Germany.
While technological advancements have certainly come a long way, it seems the basic principle is the same and Paul Brow has stayed on top of all of the changes in repair and service requirements of the Diesel Engine. Paul and All Car also offer a line of special red line fluids to service all types of diesel engines.