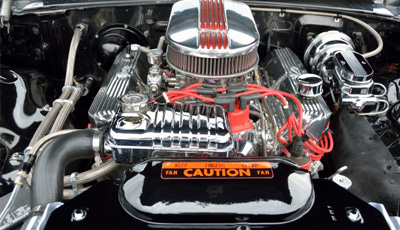 Automotive Electrical Repair and Maintenance
Automotive Electrical Repair and Maintenance
One of the most frustrating and potentially costly auto repair problems a car can have is often that having to do with electrical. Since there are so many moving parts in your auto each one relying on an electrical connection to function, it's no wonder many auto repair shops 'farm' out their customer's cars that have electrical problems to other shops they network with.
One problem many auto owners have experienced must do with rodents trying to make homes in their engine department. Left unattended to they can end up chewing on wires throughout the engine and dashboard areas that can cause real havoc on your auto's wiring harness, a very sophisticated string of wiring with each individual wire going to and serving a specific need.
Old Wiring Harness – shown above – chewed on by rodents required complete replacement from All Car experts
Tracking down and diagnosing the exact short or connection problem requires precise and expert diagnosis. All Car Specialists in San Gabriel Valley are experts in all areas of automotive electrical problems.  We can troubleshoot your car's electrical problem by accurate diagnosis that saves you a great deal of time and money, all without, referring you to another shop.
Engine compartment wiring harness (shown below) presents a maze of numerous wires strung throughout the engine compartment all leading to different key operating functions. Cutting, splicing or repairing an individual wire (shown below) in the harness requires precise diagnosis to determine exactly which wire needs to be repaired to correct the problem. When All Car Specialists must do electrical repairs on your vehicle you can rest assured it will be done precisely to specifications for optimal performance to solve your electrical problem.
Just a few parts that rely on electrical connections to function are: Battery – Starter – Alternator – Fuel Pump – Coil – Spark Plugs – Rotor – Fuel Injectors – Electric Fan – AC – Heater – Radio – Power Steering – Dashboard lights – and much more.
Shorts caused by frayed, shorted, damaged, worn, burnt, brittle or chewed wiring, often not readily visible when opening the hood can lead to anything from complete malfunction of your engine or partial intermittent problems. As you can imagine, intermittent problems can cause an inexperienced shop to start throwing part after part at your car in a hit and miss style approach to try and fix the problem. Therefore, causing you to spend a lot of money on needless and improperly diagnosed repairs.
So why would you pay to replace your alternator or starter when it's a bad connection or invest in a new fuel pump or complete tune-up when the problem is a loose or damaged wire with a bad connection? This small example will quickly illustrate just what can happen and how the repair expense can quickly get out of hand.  It's important to rely on shops like ours that are skilled in automotive electrical repair, maintenance and diagnostics.
Here are a few consumer auto tips to help you maintain your auto's electrical system:
Always keep your battery connections clean, don't let corrosion build up on the posts or wires.
When starting your car, start it 'clean' meaning, have your A/C, lights, radio, fan, heaters, etc. all turned to the off position requiring less of your battery to start your engine. Frequently check your engine compartment visually for any signs of rodent activity and frayed wiring. Be sure to wipe off any excess oil or other fluids that may end up on adjacent wiring when adding fluids to your engine.
If you are experiencing any kind of intermittent short or engine running problem give All Car a call and bring in your auto for a checkup. Sometimes it may only be a minor problem that makes it sound like a larger problem.  All Car Specialists has the advanced technology, the skilled technicians, the knowledge and the experience to diagnose as well as solve any of your autos electrical problems.