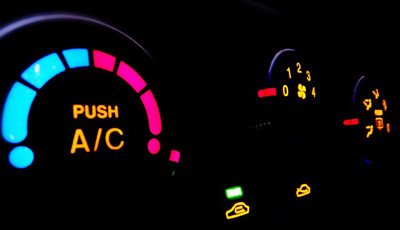 Auto AC Repair, Recharging and Maintenance Experts
Auto AC Repair, Recharging and Maintenance
Repair, Recharge and Maintain your Car's AC (Air Conditioning) to keep costs down
All Car Specialists of San Gabriel Valley, CA has been family owned and operated since 1979 and we have been providing top quality automotive air conditioning services you can count on. Whether a problem lies with your condenser or compressor, our expert team of ASE Certified Technicians will diagnose your air conditioning problems in no time, often while you wait.
As automotive air conditioner repair specialists, our highly skilled technicians follow precise procedures to uncover the temperature issues in your vehicle quite quickly at the least expense to you. Remember, we want you to be an All Car customer for years to come, not just for an hour. Whether your car currently has poor cooling performance, intermittent cooling or no cooling at all.  We are more than capable of diagnosing your vehicle in no time and getting you, some nice cool air flowing back again. All Car provides same day service on all makes and models, including over-sized vehicles, RV's, and classic and vintage cars. All Car performs same day service on air conditioning and in most cases while you wait.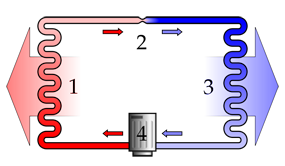 Above is a basic diagram of the refrigeration cycle in your cars AC: The main parts include: 1) Condensing Coil, 2) Expansion Valve, 3) Evaporator Coil, 4) Compressor. A leak or problem in any one of these components can cause your AC not to function right or even at all.  At All Car, we diagnose your problem 'Before' we start throwing parts and labor at it which can lead to a big savings for you. See our Diagnostics section to see how we differ from other repair shops and how All Car saves you money by getting it right the first time.
All Car's AC services include:
Full service and repair on all systems
Check for any leaks in your system
Complete evac and recharge services – Evacuate refrigerant from the system
Check the operation of the air conditioning compressor and other air conditioning components
Recharge AC, including R12 – All Car Specialists will ensure that when we recharge the air conditioning system we use the appropriate refrigerant to the system capacity according to your specific vehicle manufacturer's specifications
Specialized retrofit from R12 to 134A
Compressor repair and replace if needed
Complete AC hose inspection and replace if necessary
Vacuum test the system
Visually inspect the air conditioning compressor drive belt for cracks or damage – visually inspect accessible components for leaks or damage
Here are just a few examples of some other things All Car looks for when servicing your AC that other shops may not have told you about before. If left unattended it can cause an adverse effect on any new servicing done, thereby requiring you to take your car back in and that costs you time and money.  Many shops only guarantee the exact parts they replace when servicing your AC and charge you extra to do what should have been diagnosed initially.
For Example:
AC accumulators are sometimes wrapped in foam to control condensation. In some vehicles, excess moisture can stay trapped between the insulating foam and the all-steel accumulator. This can cause an accelerated corrosion problem in some vehicles. Rust eats through the outside of the accumulator and is often hard to see without removing the foam insulation.
Cabin filter clogging in some vehicles a clogged cabin air filter can cause a reduced airflow in various blower modes the problem many people have is they never know where to look as to where their cabin filter may be. The location of the filter access panel depends on the year, make and model of your auto. Replacement is usually just a matter of finding the access door. Removing the old filter then fitting the new filter in place. Re-installing any removed access panels and seals may be needed, but usually performed in minutes. There are a few exceptions with some older cars that can require a lengthier replacement.
Electrical short or fix there may be times when it is not actually your AC that is not functioning but it could be due to an electrical short.  Our AC diagnosis will reveal exactly what you need without spending extra and needless wasted money trying to figure it out.
Is your orifice tube dirty and clogged?  With AC systems that utilize an orifice tube, you can usually judge the condition by looking at the inlet side of the orifice tube screen. If a substantial amount of debris is found, we'll advise you and a flushing would be recommended. Likewise, visual inspection of the refrigerant oil may indicate it's time to flush.
These are all part of our initial inspection. That's one reason throughout our site you'll see us referencing the importance of doing an initial diagnostic on your automobile as sure, it might cost you a few dollars up front, but what it can save you can't be calculated. Many times, people take their cars into a shop due to a problem they can't figure out and assume that the shop automatically does an initial diagnostic. That is more of a misconception than can be stated. Throwing parts at your car to see what fixes it is not the way to go and can be very costly. Plus, by doing a diagnostic to troubleshoot the exact problem you initially came in for can also provide a potential problem that has not yet appeared, thereby saving you money by maintenance in advance.
All Car recommends that when your AC system is opened for service that's a good time to perform a flush. A clean system minimizes the chance of having to take your time to come back in and that saves you time and saves you money, exactly what All Car always tries to do.
All Car has the expert technicians that are well versed in air condition servicing on all makes and models and we'll get you in and out as fast as possible at a fair and affordable price.  We value you as a continued customer so we want you to rely on All Car for all of your cars servicing, maintenance and repair needs. At All Car we have an auto repair team that is committed to your convenience, we offer free shuttle services, towing on major repairs, a 24 and we warranty all of our work, we even help you with a loaner vehicle.
At some shops, all you get is a smile and friendly handshake, at All Car you get a guarantee that the problem we find is what is going to fix your car.
Remember, it is far cheaper to maintain your old car than let it go or buying a new one at times.